To celebrate Sacred Pink Grapefruit Gin being August's Gin of the Month, we thought we would continue to give Think Gin Club Members their five-a-day.
This month at Think Gin Club, we have compiled a list of the best pink grapefruit gin cocktails for you to sample.
If you didn't get to enjoy the Sacred Pink Grapefruit Gin and the August box of the month but would like to sign up, join the club now.
Don't forget to use Pink Grapefruit Gin in all the recipes!
Pink Grapefruit Tom Collins
This cocktail recipe is the best use of pink grapefruit gin.
To truly benefit from one of your five-a-day, and garnish with a pink grapefruit slice.
Ingredients
50ml Gin
25ml Lemon Juice
25ml Sugar Syrup
125ml Soda Water
Method
Place plenty of ice into a Collins glass. Pour over the ingredients and stir gently.
Recommended Garnish
Garnish with a slice of pink grapefruit.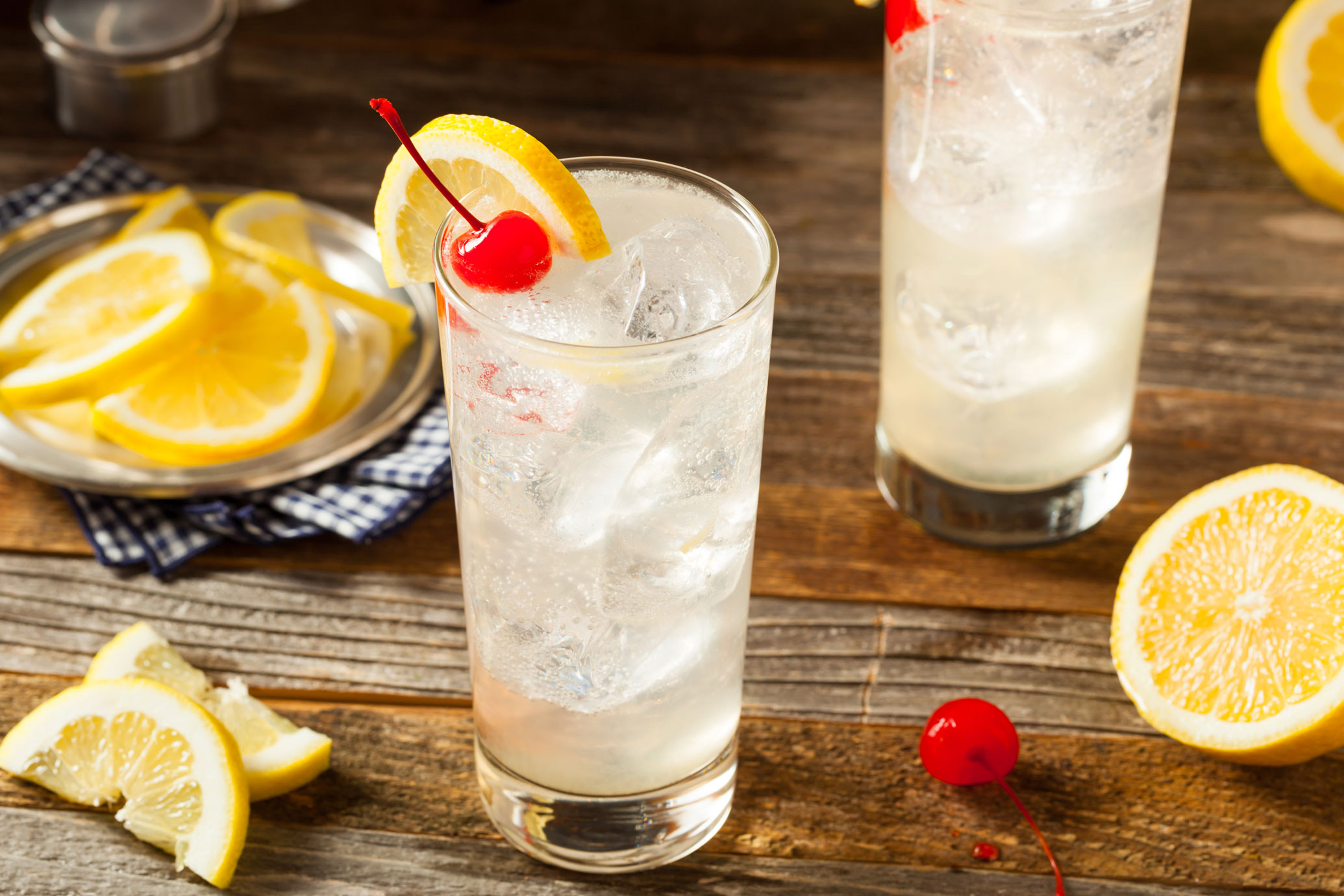 Grapefruit Gin Spritz
This fruity equivalent to the Aperol Spritz is the perfect thirst quencher!
Make sure to garnish with thyme sprigs & grapefruit for the best taste.
Ingredients
30ml Gin
60ml Fresh Squeezed Grapefruit Juice
250ml Prosecco
Tonic Water
Grapefruit Slice
Thyme Sprigs
Ice
Method
Fill the glass with ice then pour in the gin followed by grapefruit juice. Top with Prosecco and tonic water. Serve with a slice of grapefruit and a thyme sprig.
Recommended Garnish
Fresh Grapefruit and Fresh Thyme
Sea Breeze
This classic cocktail is perfect with pink grapefruit gin instead of vodka!
Make sure to serve in a Highball Glass.
Ingredients
40ml Gin
120ml Cranberry Juice
30ml Grapefruit Juice
Ice
Method
Place ice into a Highball Glass and add the ingredients.
Recommended Garnish
Garnish with a slice of pink grapefruit.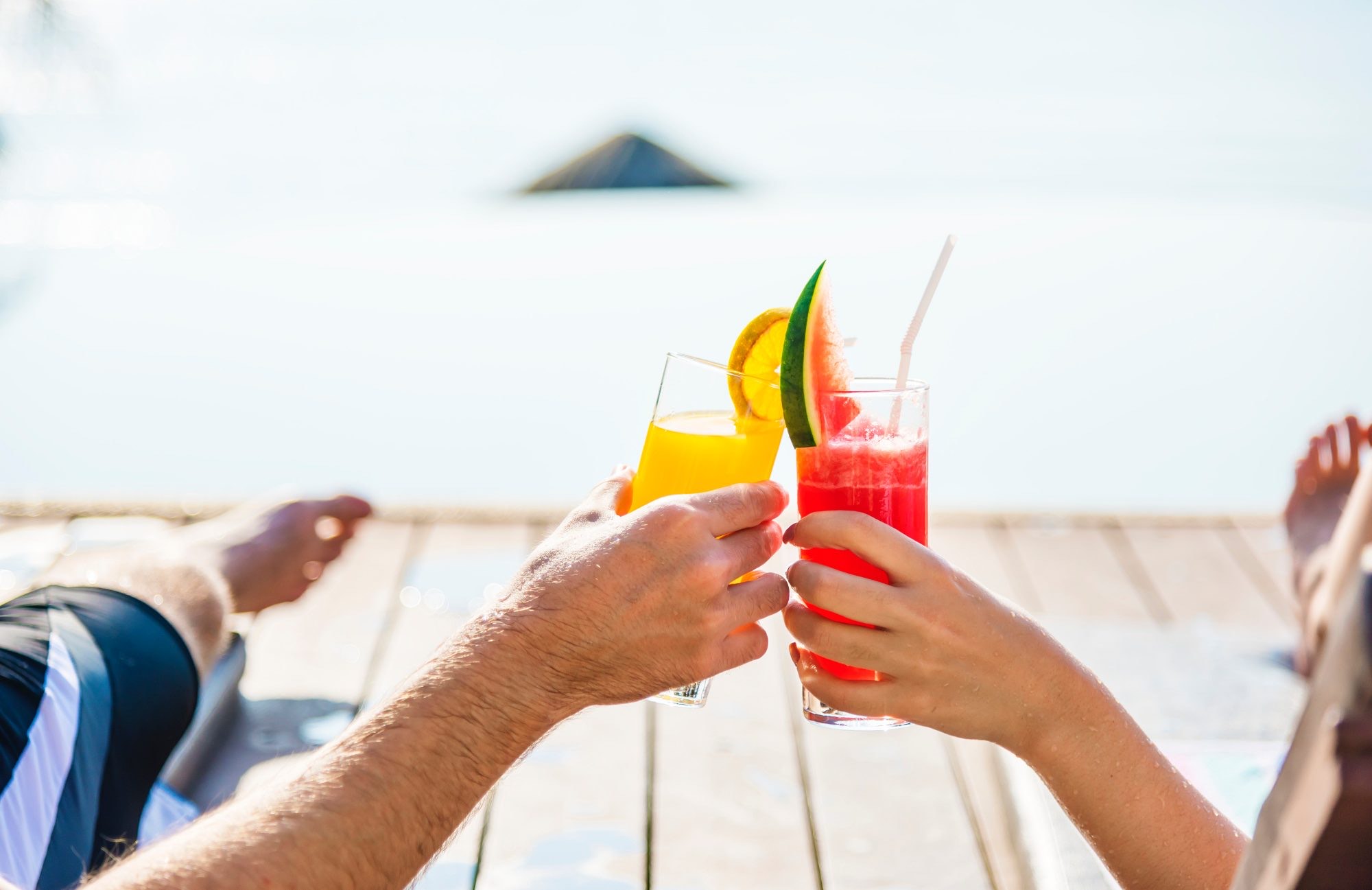 Pink Grapefruit G&T
A fruity twist on a classic!
Instead of lemon, pair your G&T with a twist of grapefruit!
Ingredients
50ml Gin
Tonic Water
Pink Grapefruit Twist
Method
Fill a Copa glass with ice and add the gin. Top up with your desired amount of tonic water.
Recommended Garnish
Garnish with a pink grapefruit twist.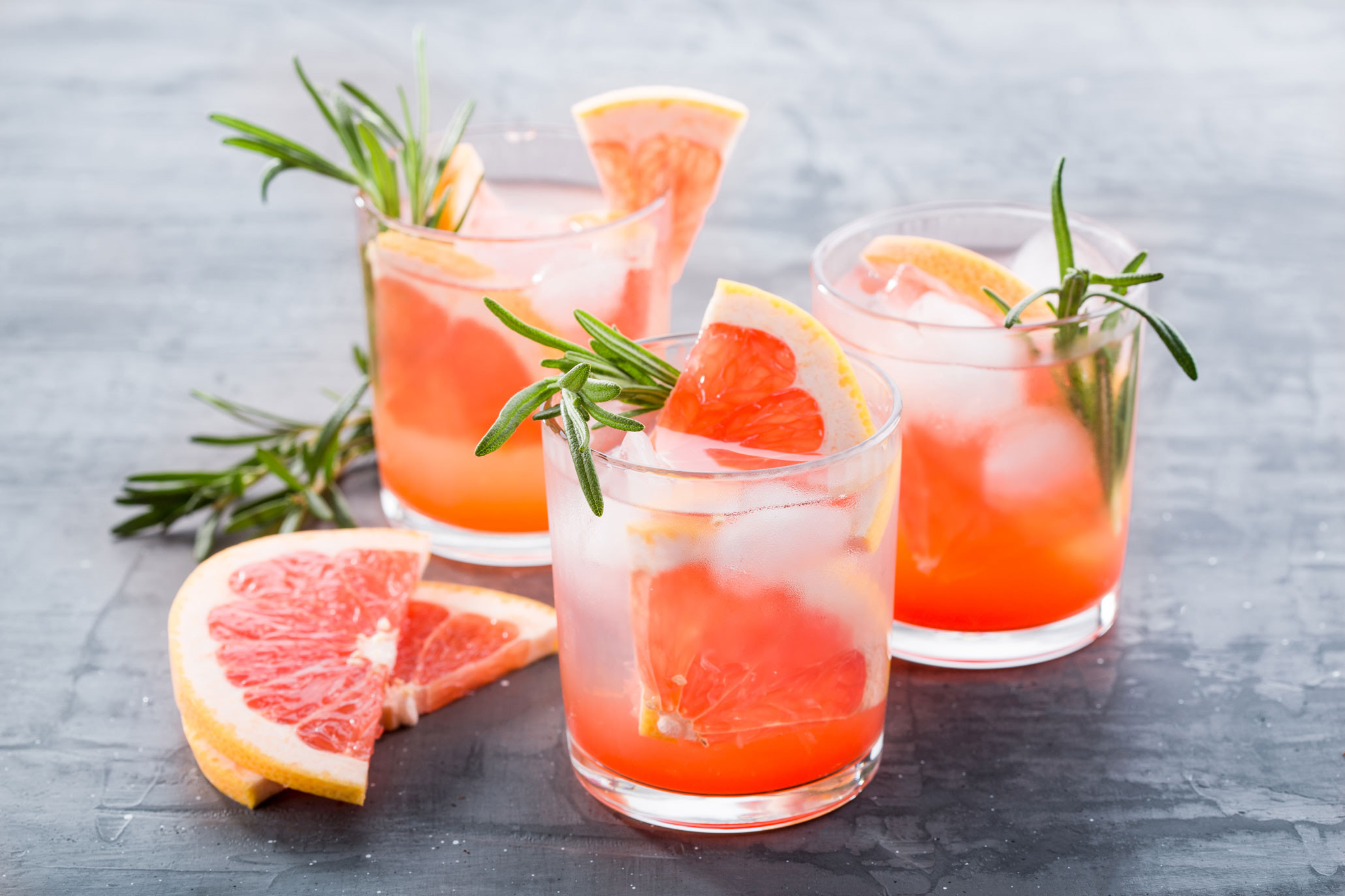 The Salty Dog
This pink grapefruit gin cocktail will certainly hit the spot!
If you find the grapefruit juice too sour, add a dash of syrup.
Ingredients
60ml Gin
120ml Grapefruit Juice
Salt for the Rim
Method
Rim a chilled Collins glass with salt. Add ice into the glass, before pouring over the gin and juice. Garnish with a slice of grapefruit. Stir well.
Recommended Garnish
Garnish with a slice of grapefruit
Pink Grapefruit Gimlet
This cocktail uses Sacred Pink Grapefruit Gin to create a refreshing summer drink!
Don't forget to garnish with a slice of grapefruit!
Ingredients
50ml Gin
25ml Fresh Lime Juice
20ml Sugar Syrup
Ice Cubes
1 Slice of Pink Grapefruit
Method
Place the ice cubes and ingredients into a cocktail shaker & shake. Strain into a cocktail glass.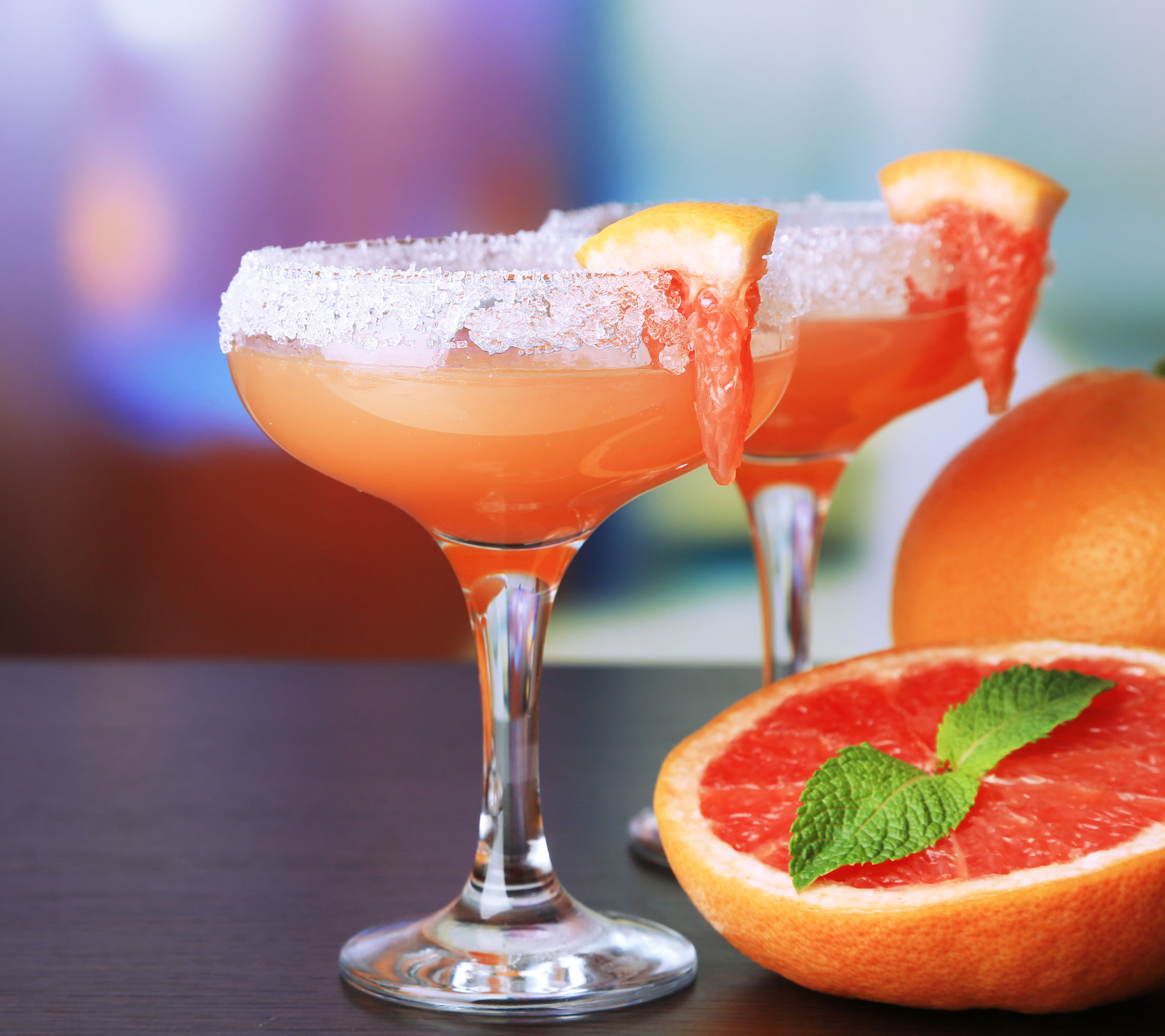 Grapefruit Gin Slush Cocktail
This is the perfect way to cool off after a hot day.
For the best touch, serve it on its own or scoop it into an actual pink grapefruit.
Ingredients
70ml Gin
50g Sugar
500ml Freshly Squeezed Pink Grapefruit Juice
Method
Heat 60ml of the grapefruit juice with the sugar in a small saucepan, stirring until the sugar is dissolved. Remove from heat and stir into the rest of the grapefruit juice. Add the gin.
Pour the mixture into a container suitable for freezing and chill for at least 8 hours.
To serve, carve out the insides of pink grapefruit and fill with the slush mixture.

Breakfast Martini
The perfect pick-me-up for the morning, this citrus and sweet delight will set you up perfectly for the day.
Ingredients
40ml Gin
20ml Cointreau
20ml Lemon Juice
Spoonful of Marmalade
Slice of Grapefruit
Method
Shake the gin, Cointreau, lemon juice & marmalade in a cocktail shaker & strain into a saucer glass.
Recommended Garnish
Garnish with a slice of grapefruit
Pink Grapefruit Gin Martini
We love a good gin martini, and how better to enhance a classic than with pink grapefruit.
This cocktail is a great twist on a classic gin martini and is perfect for summer garden parties.
Ingredients
75ml Gin
10ml Dry Vermouth
Method
Pour the Dry Vermouth and Pink Gin into a martini glass and stir slowly.
Recommended Garnish
Serve with a slither of pink grapefruit peel.
Enjoy These Pink Grapefruit Gin Cocktails & More by Becoming a Member
If you're already looking forward to making these Pink Grapefruit gin cocktail recipes and wish you could enjoy our excellent gins, then join the club today.
Each month our members receive a hand-picked craft gin, mixers, treats, a complimentary gift, a recipe card and a mixology tool in their gin of the month box.
Our boxes are available monthly, bi-monthly and quarterly, costing £40 per box. If you join today, your first box will be £10 off if you use the code TG10 and comes with a free cocktail shaker worth £20.
Lastly, we give our members the opportunity to buy gin that isn't available in the supermarket through our online shop. Click here to join the club or visit our contact page for our email address.